Employment Information
Use our Indeed.com site to see our current opening as well as submit your application.
To see our opening click here.
If you have any questions about positions at the Board, please email, employment@greenedd.org.  If there are no currently open positions from the link above, you are always welcome to submit your resume.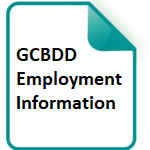 Greene County Board of Developmental Disabilities
Attn: Heather Bird-Shimko
245 N.Valley Rd.
Xenia, OH 45385
Phone: (937) 562-6500
Fax: (937) 562-6520
Email: employment@greenedd.org