If you have any questions or issues, please contact
Kathy Kleiser or Josh Welhener.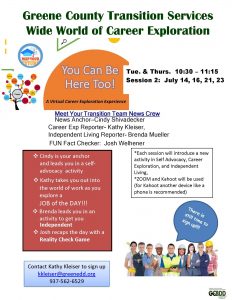 School to Adult Life Transition (S.A.L.T.)
As most of you know the regular SALT meetings have been postponed due to COVID 19 precautions. As a way to keep everyone informed and updated on transition related topics during this time, we have created SALT TALKS Series - An Online Transition Series that will be scheduled every week through the May 21st. Watch for updates!
Click here to see full size Flyer information